Show#217- Lessons for your business from a 46 year marriage
with: Jeffrey St Laurent
Topic: Lessons for your business from a 46 year marriage
Tuesday, July 28th was my parents 46th wedding anniversary!
46 years of doing anything… let alone a marriage is VERY RARE so I sat down with them to understand the key elements of what made it work even now as they are actually healthy and happy together.
So I thought I would bring those elements that they shared with me to this Live Show as they parallel quite well to the long term mindset needed in our business and if as a bonus it helps you with your relationship… all the better!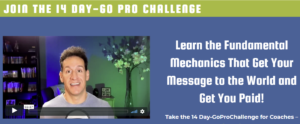 If you are a coach wanting to get paid and want to learn how, check out the
14 Day- GoProChallenge for Coaches
An incredible challenge to help define your message, get it out to the world, follow up and get clients with a step by step proven process that has created results for me since 2004!
Do more in 14 days than you could ever imagine in a very achievable day by day format.
Learn more and register at: