Show#231- Creativity in marketing: Success Story w/Melanie Kimberlin
with Jeffrey St Laurent
Topic: Creativity in marketing: Success Story w/Melanie Kimberlin
On this Tuesday Live Show I am thrilled to interview my mentor coaching client Melanie Kimberlin and wait until you see what she created in her first 5 months of her coaching business!
She took my 14 Day GoProChallenge then worked with me in my GoProElite Group Mentor Coaching Program over the past 5 months.
I want to share the details of her rise into doing her coaching business so far so you can learn from the real work that needs to be done!
If you are a coach wanting to understand the work it takes to become a full time coach… the ups, downs and realities along the way… this is a must watch interview!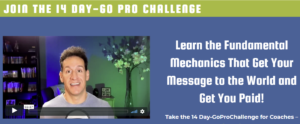 If you are a coach wanting to get paid and want to learn how, check out the
14 Day- GoProChallenge for Coaches
An incredible challenge to help define your message, get it out to the world, follow up and get clients with a step by step proven process that has created results for me since 2004!
Do more in 14 days than you could ever imagine in a very achievable day by day format.
Learn more and register at: