Show#248- How to manage a full time job while building a coaching business
with Jeffrey St Laurent
Topic: How to manage a full time job while building a coaching business
I work with many coaches who are wanting to build a full time business but still have a full time job.
Be it out of financial necessity or because they still love what they do… building a business with a full time job takes strategy and intention because time/energy management are key.
On this Tuesday Live Show I am going to discuss this situation and give some tips to help you remain consistent with your business so you can create what you want.
____________________________________________
BEFORE YOU GO… I have a great 5 Month Group Mentor Coaching Program!
If you are serious about launching/growing your coaching business but know you require some help/guidance, CLICK THE LINK BELOW then enter your name and email… it will then take you to the info page to learn more about my 5 Month GoProELITE Group Mentoring Program.
https://tinyurl.com/GoProElite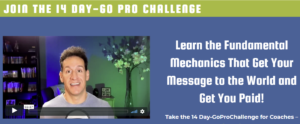 If you are a coach wanting to get paid and want to learn how, check out the
14 Day- GoProChallenge for Coaches
An incredible challenge to help define your message, get it out to the world, follow up and get clients with a step by step proven process that has created results for me since 2004!
Do more in 14 days than you could ever imagine in a very achievable day by day format.
Learn more and register at: