Show#172- Doing business without a niche
With Jeffrey St Laurent
Topic: Doing business without a niche
If you are serious about your coaching business then you literally hear ALL THE TIME that you must have a niche if you want to succeed.
While there is a lot of truth to that statement and I have created great six figure long term success with a strong niche.
With that being said there is also a lot of truth to the opposite…operating your business without a niche. I have also created great six figure long term success withOUT a niche.
On this Tuesday Live show I will be talking about creating a successful coaching practice with no niche… or said differently… with a very general/vague one.
I will share what specific conditions must be present in order for you to create success on that path as well.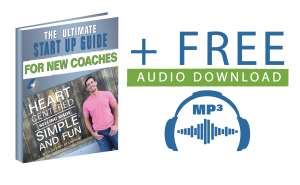 I have a great resource for you:
"The Ultimate Start Up Guide for New Coaches"
It's a FREE Audio download with resource guide for new coaches serious about creating a full time, profitable business.