Show#201- How to grow your business during hard circumstances
with Jeffrey St Laurent
Topic: How to grow your business during hard circumstances
With all the changes and challenges in the world there are times in our business that can be very hard. Not only can they impact us in our personal life but they can impact us business wise as well.
Having been doing my coaching business full time since 2004 I have weathered up and down circumstances in the world… be it the SARS outbreak in 2003-2004 as I was launching my business… the major recession we had in December 07 – June 09… to personal challenges like divorce, injury and too many others to mention.
So when it comes to launching/operating your business during hard circumstances, I have some sound advice and thoughts to give that will help you get through what we are experiencing now or anything in the future… personal or external… so you can create a long term coaching business to be proud of and that will produce income for you!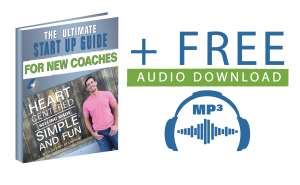 I have a great resource for you:
"The Ultimate Start Up Guide for New Coaches"
It's a FREE Audio download with resource guide for new coaches serious about creating a full time, profitable business.