Show#160- Bursts of motivation that lead to nowhere: What to do about it
Topic: Bursts of motivation that lead to nowhere: What to do about it
Do you ever get all fired up at the most ridiculous times and get inspired to do something great in an area of your life?
Like sitting down watching a sports game and become inspired to get in shape. See a couple in love and become inspired to deepen the connection in your relationship. Or reading about a success story then get all fired up to grow your coaching business.
Then hours later… nothing!
On this Tuesday Live Show I will talk about the realities of these moments and how we can turn this around to create long term success in our business.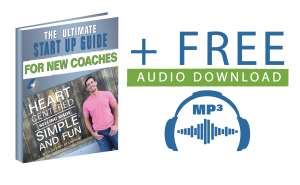 I have a great resource for you:
"The Ultimate Start Up Guide for New Coaches"
It's a FREE Audio download with resource guide for new coaches serious about creating a full time, profitable business.