Show#161- The repetition factor in business success
Topic: The repetition factor in business success
I will never forget it, Sister Marie Troy, my fourth grade teacher. A nun who you didn't fool around with or get away with anything.
She said: Repetition is the secret to success. Also things like: Three times for the normal mind.
Now she must have said that a lot because 32 years later I still remember it and on this Tuesday Live Show I will talk about the power of repetition in creating a long term successful coaching business.
I will also share specifics on what is worth repeating to create a habit of to ensure you are creating the proper habits.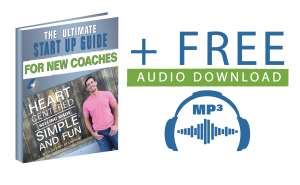 I have a great resource for you:
"The Ultimate Start Up Guide for New Coaches"
It's a FREE Audio download with resource guide for new coaches serious about creating a full time, profitable business.