Show#166- The ins and outs of following up to get paid
with Jeffrey St Laurent
Topic: The ins and outs of following up to get paid
Following up with potential clients is an art and invaluable skill set in of itself.
In fact it is absolutely essential we understand this skill and hone it over time if we truly want to have a long-term, full-time business.
On this Live Show I will be giving you the scoop on how to make your follow up effective so you can not only build valuable connections, a solid community but get paying clients as well.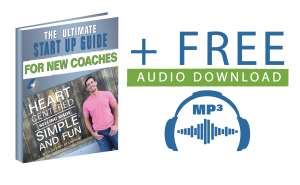 I have a great resource for you:
"The Ultimate Start Up Guide for New Coaches"
It's a FREE Audio download with resource guide for new coaches serious about creating a full time, profitable business.