Show#167- 3 Vital Elements needed before we offer a Complimentary Session
with Jeffrey St Laurent
Topic: 3 Vital Elements needed before we offer a Complimentary Session
I speak with coaches every day and everyone seems to be giving away complimentary sessions / discovery calls to anyone who wants to take them.
Heck I use to do the same 15 years ago when I began… but I learned very quickly it was not working in terms of getting paying clients.
There are three vital elements that must be present BEFORE you offer a complimentary session for it to make sense for everyone and to significantly increase your chances of getting new business.
This is exactly what I will be sharing on this Tuesday Live Show!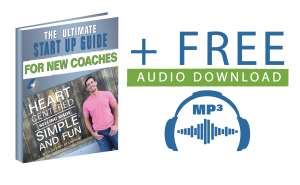 I have a great resource for you:
"The Ultimate Start Up Guide for New Coaches"
It's a FREE Audio download with resource guide for new coaches serious about creating a full time, profitable business.