Show#168- Successful vs Flawed Business Models
with Jeffrey St Laurent
Topic: Successful vs Flawed Business Models
You really want to get paid full time in your coaching business but you need to have a business model to get there.
This is a marketing structure to create leads then a follow up/conversion plan to convert those leads into paying clients/buying products… monetizing!
Most coaches get their models from other "gurus" who market heavy to this audience… myself included. So how can you tell if you have a successful or flawed business model? What should you be looking for?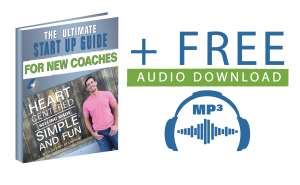 I have a great resource for you:
"The Ultimate Start Up Guide for New Coaches"
It's a FREE Audio download with resource guide for new coaches serious about creating a full time, profitable business.