Show#169- Vulnerability and your business: How to combine the two
with Jeffrey St Laurent
Topic: Vulnerability and Your Business- How to combine the two
There are times in our lives where things get hard, and all we want to do is hit pause and have everything else stop.
However, as an adult that is not reality and in many instances the show must go on, so to speak. Yet as much as we must "press on," if we try and act like nothing's wrong and everything is fine and dandy… there can be a huge disconnect.
If you have followed me for a while and are a student of mine, I teach that we must be transparent and authentic with our audience…
So not only do I plan on being vulnerable on the Tuesday Live Show today, but I also want to teach you how to combine vulnerability with your business, why it is so important, and how that leads to paying clients.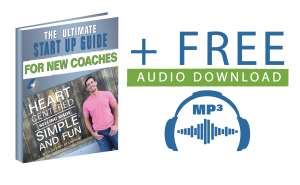 I have a great resource for you:
"The Ultimate Start Up Guide for New Coaches"
It's a FREE Audio download with resource guide for new coaches serious about creating a full time, profitable business.