Show#177- Should I Quit My Business or Move Forward?
with Jeffrey St Laurent
Topic: Should I quit my business or move forward?
Entrepreneurship is NOT for everyone. As you build your business you should, on a regular business, think about quitting.
In fact if that has not crossed your mind yet then you might not be really doing what it takes! With that being said, how do you know if you SHOULD quit or not?
That is exactly what I will be exploring on this Tuesday Live Show as I share some real world experiences of clients of mine that have taken BOTH paths… and the most important part of whichever direction you decide.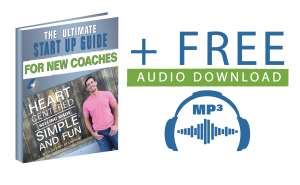 I have a great resource for you:
"The Ultimate Start Up Guide for New Coaches"
It's a FREE Audio download with resource guide for new coaches serious about creating a full time, profitable business.