Show#176- The Unmarketable Truth about Earning Income
Topic: The Unmarketable Truth about earning income
We all want to earn money from what we love to do… so the appeal of earning a full time income from coaching people is thrilling.
I remember back in 2004 when I felt the same… when I hadn't earned a dime yet from coaching… and now 15 years later knowing what it took to to create the income I have… it is time to set your expectations straight if you are going to be in business 15 years from now and even have a chance.
So on this Tuesday Live Show get ready for the unmarketable truth.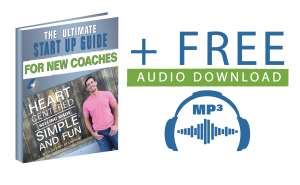 I have a great resource for you:
"The Ultimate Start Up Guide for New Coaches"
It's a FREE Audio download with resource guide for new coaches serious about creating a full time, profitable business.