Show#178- The Needs-Based Approach
with Jeffrey St Laurent
Topic: The Needs-Based Approach
Do you realize that one of the main reasons you are not getting paid is because you are not asking for business?
It doesn't mean that JUST asking will all of a sudden get you business, because there is an art to asking… but it does mean that if you want more business you must begin to become a master asker!
On this Tuesday Live Show I will be teaching you the art of asking for business with an element called the approach… but doing it from what I like to call, the needs-based approach, so you can be more effective and feel good about asking for business.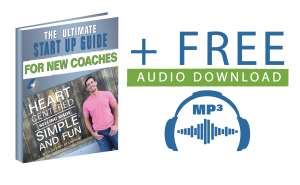 I have a great resource for you:
"The Ultimate Start Up Guide for New Coaches"
It's a FREE Audio download with resource guide for new coaches serious about creating a full time, profitable business.