Show#204- There is so much opportunity out there: How to seize yours
with Jeffrey St Laurent
Topic: There is so much opportunity out there- How to seize yours!
It kills me when I hear a coach say that they cannot get any business, or that "now is not a good time." Or any excuse as to why they cannot get business.
This show comes on the day that I am launching my 14 Day- GoProChallenge and I am getting such a great response and it reminds me of what actually happens when you put yourself out there.
So this Show is all about how to seize the opportunity out there to get yours… because no matter what you think… it's waiting for you!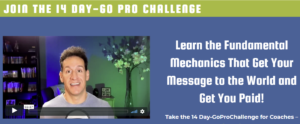 If you are a coach wanting to get paid and want to learn how check out the
14 Day- GoProChallenge for Coaches
Learn the Fundamental Mechanics That Get Your Message to the World and Get You Paid!