Show#203- The fundamental mechanics of your coaching business
with Jeffrey St Laurent
Topic: The fundamental mechanics of your coaching business
With all the "shiny objects" out there that promise quick and easy results in getting coaching clients, it can be confusing and overwhelming to know where to begin.
There are so many "tactics" and "strategies" and most coaches aren't in a position skill set wise to even use most of them effectively. That is why I am a firm believer in understanding what I call the fundamental mechanics of your coaching business.
These are the foundational actions that we deserve to understand no matter what our marketing strategy. That is exactly what I am going to be addressing on this weeks Tuesday Live Show! Be there!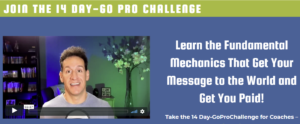 If you are a coach wanting to get paid and want to learn how check out the
14 Day- GoProChallenge for Coaches
Learn the Fundamental Mechanics That Get Your Message to the World and Get You Paid!