Show#205- Success Story Interview: Greg Storch
with Jeffrey St Laurent
Topic: Success Story Interview with Greg Storch
I am thrilled to be interviewing my mentor coaching client Greg Storch from Italy as just hit 100 live shows and has created some amazing things since launching his coaching business!
I want to highlight his path and the work behind it all. If you are a coach wanting to understand the work it takes to become a full time coach… the ups, downs and realities along the way… this is a must watch interview!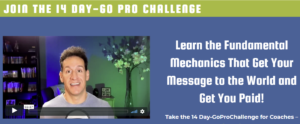 If you are a coach wanting to get paid and want to learn how check out the
14 Day- GoProChallenge for Coaches
Learn the Fundamental Mechanics That Get Your Message to the World and Get You Paid!