Show#221- What to do OUTSIDE business hours
with Jeffrey St Laurent
Topic: What to do OUTSIDE business hours
This weekend I played and I played hard! So today I am exhausted. Why is that so great? Because I am living and doing the things I want to do on my time and by design. Being exhausted can be a great thing when you are living your life by your own choices and fully expressing it.
As you grow and nurture your coaching business, wherever you are at, you must remember how important it is to get OUT of the office as it is to get IN the office. It is why I talk so much about business hours.
The END time is just as important as the START time. The END time signifies YOUR TIME… and that is what I want to focus on this week. It has nothing to do with business but everything to do with it… it is how you live your life on your terms.
So on this Tuesday Live Show I share some of the lessons I have learned along the way of how to play hard and how to remember that as we create our enterprise!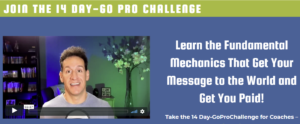 If you are a coach wanting to get paid and want to learn how, check out the
14 Day- GoProChallenge for Coaches
An incredible challenge to help define your message, get it out to the world, follow up and get clients with a step by step proven process that has created results for me since 2004!
Do more in 14 days than you could ever imagine in a very achievable day by day format.
Learn more and register at: