Show#222- Let's talk about consistency over time
with Jeffrey St Laurent
Topic: Let's talk about consistency over time
This past week I passed 700 episodes of my daily podcast… so not only do I want to celebrate but I want to talk about consistency.
Consistency over time makes sense and sounds good but there is a certain mentality to it and THAT is what I want to talk about on this Live Show!
There are some elements that I use that keep me as consistent as I am and I want to open up behind the scenes of my mindset that might help you if you struggle in this area.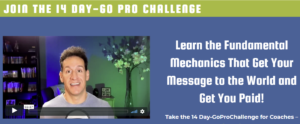 If you are a coach wanting to get paid and want to learn how, check out the
14 Day- GoProChallenge for Coaches
An incredible challenge to help define your message, get it out to the world, follow up and get clients with a step by step proven process that has created results for me since 2004!
Do more in 14 days than you could ever imagine in a very achievable day by day format.
Learn more and register at: