Show#223- Dealing with Objections
with Jeffrey St Laurent
Topic: Dealing with Objections
There is nothing worse then getting to the end of a complimentary coaching call and someone giving you some form of objections.
Whether it be money, time, spousal or thinking about it objections… most coaches freeze in this situation and have no idea what to do.
On this Live Show I address the common objections we face as coaches and how to deal with them and also how to set yourself up to virtually never get them again!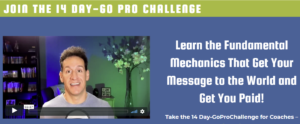 If you are a coach wanting to get paid and want to learn how, check out the
14 Day- GoProChallenge for Coaches
An incredible challenge to help define your message, get it out to the world, follow up and get clients with a step by step proven process that has created results for me since 2004!
Do more in 14 days than you could ever imagine in a very achievable day by day format.
Learn more and register at: