Show#224- How to start your own podcast…TODAY!
with Jeffrey St Laurent
Topic: Starting your own podcast… TODAY!
If you have ever thought about starting your own podcast but became overwhelmed and never began, I want to break down this process to make it super simple for you to begin your own podcast today!
I want to share some resources to get you started on as well. One of which I will refer to in the show will be PodBean: https://www.podbean.com/jsl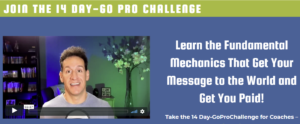 If you are a coach wanting to get paid and want to learn how, check out the
14 Day- GoProChallenge for Coaches
An incredible challenge to help define your message, get it out to the world, follow up and get clients with a step by step proven process that has created results for me since 2004!
Do more in 14 days than you could ever imagine in a very achievable day by day format.
Learn more and register at: