Show#242- Group Success Story w/Michelle, Licia and Rachel
with Jeffrey St Laurent
Topic: Group Success Story w/Michelle, Licia and Rachel
This week on the Tuesday Live Show I have THREE of my group mentor coaching clients as my guest!
They took my 14 Day GoProChallenge then worked with me in my GoProElite Group Mentor Coaching Program over the past 5 months as a group of three.
This is not only a celebration for us but where we will share some of the work they all did so you can get a feel for what it's like to build your business with a team of people on your side!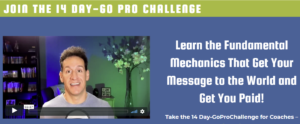 If you are a coach wanting to get paid and want to learn how, check out the
14 Day- GoProChallenge for Coaches
An incredible challenge to help define your message, get it out to the world, follow up and get clients with a step by step proven process that has created results for me since 2004!
Do more in 14 days than you could ever imagine in a very achievable day by day format.
Learn more and register at: