Show#251​- The cold approach for new business
with Jeffrey St Laurent
Topic: The cold approach for new business
A "cold" marketing approach is reaching out to someone you do not know and they do not know of you.
Most coaches hate "cold calling" or anything that has to do with reaching out to a "cold market."
Yet if we want to be in business long term we must at some point speak with people outside our current database.
This Live Show is all about the cold approach and how to navigate it!
___________________________________________
BEFORE YOU GO… I have a great 5 Month Group Mentor Coaching Program!
If you are serious about launching/growing your coaching business but know you require some help/guidance, CLICK THE LINK BELOW then enter your name and email… it will then take you to the info page to learn more about my 5 Month GoProELITE Group Mentoring Program.
https://tinyurl.com/GoProElite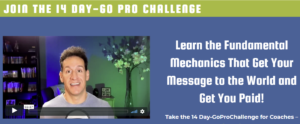 If you are a coach wanting to get paid and want to learn how, check out the
14 Day- GoProChallenge for Coaches
An incredible challenge to help define your message, get it out to the world, follow up and get clients with a step by step proven process that has created results for me since 2004!
Do more in 14 days than you could ever imagine in a very achievable day by day format.
Learn more and register at: