Show#182- Creation on Demand
with Jeffrey St Laurent
Topic: Creation on Demand
Most people are conditioned to be an employee. Where most things are laid out for you and there is an everyday job expectation.
Where if you don't know how or what to do ideally you get trained. Even in life, most people are conditioned to prepare and think things through before they do something.
The classic "Think before you act." Entrepreneurship is completely different. If you think before you act you will be paralyzed and not get anything done.
We must learn to act before we think. There is a concept I talk about and train my mentor coaching clients on called Creation on Demand. The ability to be in the moment and create greatness from within, with minimal or no preparation.
This is a concept I want to share with you on this Live Show so you can begin to harness this sort of super power as I like to think of it! It will save you time, anxiety, teach you to trust yourself, think on your feet, create the best content you could never think up and best of all… get paid!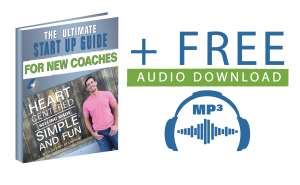 I have a great resource for you:
"The Ultimate Start Up Guide for New Coaches"
It's a FREE Audio download with resource guide for new coaches serious about creating a full time, profitable business.