Show#183- Breaking down the transition to full-time
with Jeffrey St Laurent
Topic: Breaking down the transition to full-time
So you want to coach full time? You are excited and revved up to do this… but where do you begin? There are so many avenues you can take and which is the best for you?
There is no right or wrong path to a full time coaching business however there are so many things I have learned along the way doing it myself and now having helped hundreds of coaches do the same.
So on this Tuesday live show I want to break down the transition to give you things to consider and set you up for success!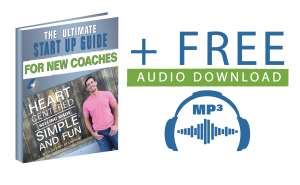 I have a great resource for you:
"The Ultimate Start Up Guide for New Coaches"
It's a FREE Audio download with resource guide for new coaches serious about creating a full time, profitable business.