Show#184- The ONLY time you should offer a free session
with Jeffrey St Laurent
Topic: The ONLY time you should offer a free session
I speak with coaches every day… I see their websites and offers all the time. The one thing I see everywhere as common practice is offering free sessions.
Coaches call them discovery calls or complimentary sessions and they give them out to anyone who will take them.
That method is a fast track to a lot of ups and downs, a big time waste and a small percentage of people actually hiring you on at the end of a time consuming process.
On this show I am going to break down when we offer a free session and what circumstances must be present to do so. This will not only save you time, emotional heartache but get you paid on a much more regular basis!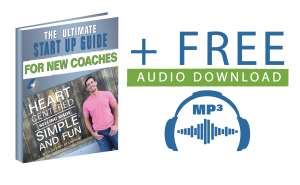 I have a great resource for you:
"The Ultimate Start Up Guide for New Coaches"
It's a FREE Audio download with resource guide for new coaches serious about creating a full time, profitable business.