Show#185- Process BEFORE People (Clients)
with Jeffrey St Laurent
Topic: Process BEFORE People (Clients)
I remember when I started coaching over 15 years ago… all I wanted to get was clients. Just like pretty much every coach out there now… we just want to get clients and coach! That is fine but when you have a business, if you have no process set up… first to bring your message to market, then to take interested leads through and hire you… it is all backwards.
On this Tuesday Live Show I am going to talk about the process needed to get clients so not only will you get paid… but you will have a duplicatable process you can perfect over time to do it more consistently.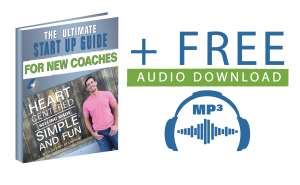 I have a great resource for you:
"The Ultimate Start Up Guide for New Coaches"
It's a FREE Audio download with resource guide for new coaches serious about creating a full time, profitable business.