Show#196- The Fundamentals of a Full-Time Coaching Business: Overview
with Jeffrey St Laurent
Topic: The Fundamentals of a Full-Time Coaching Business: Overview
The fundamentals are the foundation of any sport, business or philosophy. The best part about fundamentals is that there are no new ones… they are tried and tested and work… and in order to master what we are doing… we must first understand then practice the fundamentals.
On this Tuesday Live Show I will be going over the fundamentals of a full time coaching business… no hype or shiny objects… no flash, tricks or hacks… just the straight up fundamentals of what needs to get done to create income.
I will take an overview approach of what needs to get done so you will have direction!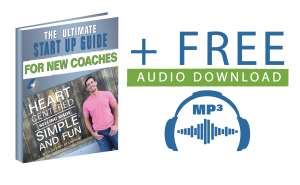 I have a great resource for you:
"The Ultimate Start Up Guide for New Coaches"
It's a FREE Audio download with resource guide for new coaches serious about creating a full time, profitable business.