Show#195- Mastering the Art of Following Up with Leads
with Jeffrey St Laurent
Topic: Mastering the art of following up with leads
We have all heard the phrase "the fortune is in the follow up." And while follow up is critical to the end result of getting paid, just know that the fortune is in when they decide "yes" they will hire us.
Now don't get me wrong, follow up… follow up regularly and consistently but make sure you are following up with the right people and with the people that deserve your time because you set the proper expectations of WHY you are following up and have asked the right questions.
Because following up is an art and when done effectively can lead to a higher percentage of people deciding "yes"… I am going to break it down on this Live Show you you can get better results!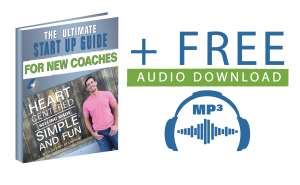 I have a great resource for you:
"The Ultimate Start Up Guide for New Coaches"
It's a FREE Audio download with resource guide for new coaches serious about creating a full time, profitable business.