Show#219- How to turn a "NO" into a paying client
with: Jeffrey St Laurent
Topic: How to turn a "NO" into a paying client
After doing business since 2004 I have realized that it is very rare if ever someone says "NO" to working with you. They are either not interested because there is no genuine need or the timing isn't right which means NOT NOW… not NO.
With that being said, people DO really want to work with you and sometimes need help deciding.
So on this Tuesday Live Show I share a real life email that came to me last week that basically said "not now," and talk about what I did, where not more than a few hours later they hired me and paid in full.
It will better help you understand this process so you can begin to do it for yourself to begin helping more people and get paid!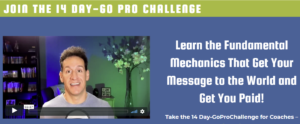 If you are a coach wanting to get paid and want to learn how, check out the
14 Day- GoProChallenge for Coaches
An incredible challenge to help define your message, get it out to the world, follow up and get clients with a step by step proven process that has created results for me since 2004!
Do more in 14 days than you could ever imagine in a very achievable day by day format.
Learn more and register at: