Show#228- How to pivot when plans change
with Jeffrey St Laurent
Topic: How to pivot when plans change
In business things can change and do in any different direction without warning… like live! LOL So what do you do? Let's talk about pivoting in the moment which is a vital skillset to master and become comfortable with!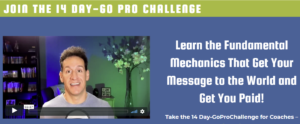 If you are a coach wanting to get paid and want to learn how, check out the
14 Day- GoProChallenge for Coaches
An incredible challenge to help define your message, get it out to the world, follow up and get clients with a step by step proven process that has created results for me since 2004!
Do more in 14 days than you could ever imagine in a very achievable day by day format.
Learn more and register at: