Show#229- My Evolving Niche: Success Story w/Natalie Finn
with Jeffrey St Laurent
Topic: My Evolving Niche: Success Story w/Natalie Finn
On this Tuesday Live Show I am thrilled to interview my mentor coaching client Natalie Finn as she has created some amazing things since launching her coaching business!
I want to highlight her path and the work behind it all over the past year and a half that we have worked together! Especially how she has evolved her niche over the years.
If you are a coach wanting to understand the work it takes to become a full time coach… the ups, downs and realities along the way… this is a must watch interview!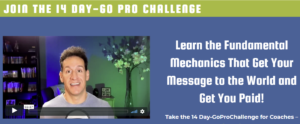 If you are a coach wanting to get paid and want to learn how, check out the
14 Day- GoProChallenge for Coaches
An incredible challenge to help define your message, get it out to the world, follow up and get clients with a step by step proven process that has created results for me since 2004!
Do more in 14 days than you could ever imagine in a very achievable day by day format.
Learn more and register at: