Show#163- Getting ready to get ready
Topic: Getting Ready to Get Ready
The classic phrase we have all told ourselves before is:
"I will do this once I do this."
I will do my website once I get my photos done. I will get out there once I get certified. I will call that person up once I organize my contacts…
This is getting ready to get ready. It goes on and usually we don't ever do what we wanted to do in the first place.
On this Live Show I will be talking about a different approach to launching your business and getting things done that you might not feel comfortable with or feel you have to do something else before you do that main action.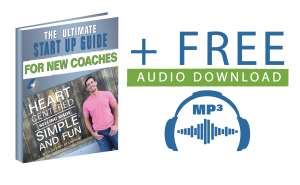 I have a great resource for you:
"The Ultimate Start Up Guide for New Coaches"
It's a FREE Audio download with resource guide for new coaches serious about creating a full time, profitable business.