Show#164- The emotional side of going full-time
with Jeffrey St Laurent
Topic: The emotional side of going full-time
There are two sides of transitioning to a full time business.
First is the step by step structure of day to day actions we must understand and do on a consistent basis.
Second is the emotional resilience and stamina we must endure as we execute those daily actions.
On this live show I will be sharing the truth about the second side so you can understand the emotional side… if anything to validate what you are feeling or set your expectations straight once you begin!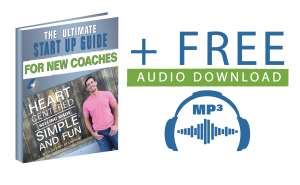 I have a great resource for you:
"The Ultimate Start Up Guide for New Coaches"
It's a FREE Audio download with resource guide for new coaches serious about creating a full time, profitable business.