Show#193- Breaking all the "rules"
with Jeffrey St Laurent
Topic: Breaking all the "rules"
When it comes to business there are certain things many experts, including myself, recommend you do to get started and continue with. Things like picking a niche, setting up a website, email list and there are other things as well.
As you begin to do some of these things, especially if you are doing them on your own, it can feel daunting and can easily leave you stuck on exactly what to do. It doesn't help when you have many people giving you many different ways of doing it either!
If you find yourself stuck in this paralyzed space of all these "rules" on this Selling Coaching Tuesday Live Show I am going to teach you how to break these and work around some of these things that might be keeping you stuck!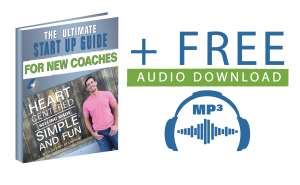 I have a great resource for you:
"The Ultimate Start Up Guide for New Coaches"
It's a FREE Audio download with resource guide for new coaches serious about creating a full time, profitable business.